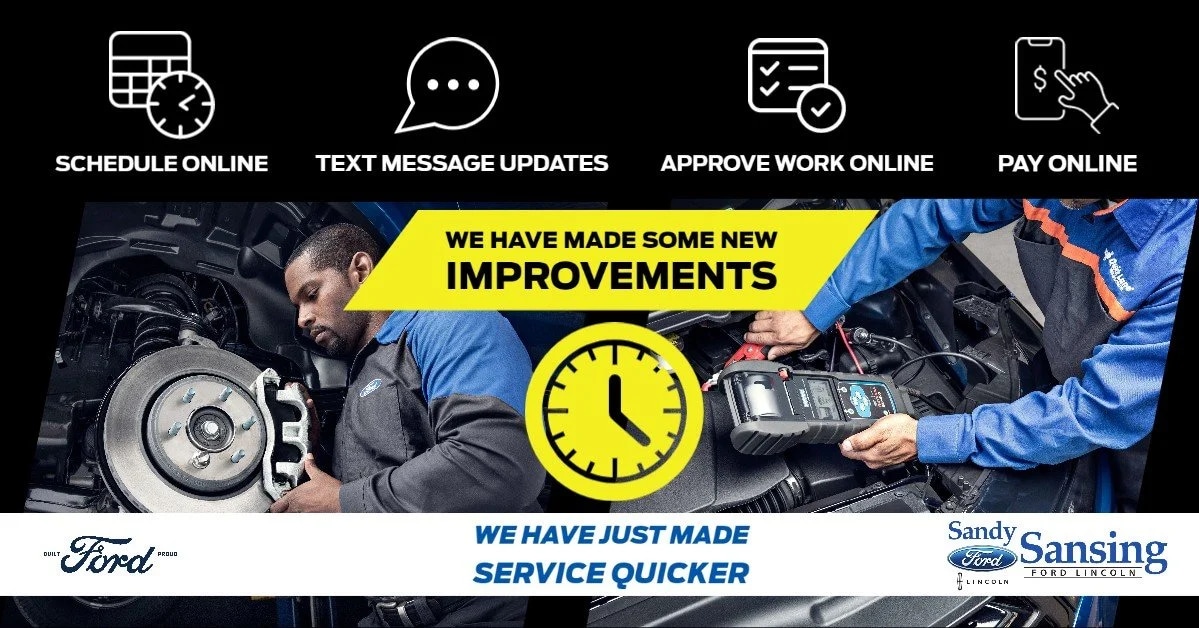 Hours
Monday

8:30am-7pm

Tuesday

8:30am-7pm

Wednesday

8:30am-7pm

Thursday

8:30am-7pm

Friday

8:30am-7pm

Saturday

9am-6pm

Sunday

Closed
Greetings from Sandy Sansing Ford Lincoln; your home for the top Ford or Lincoln service and assistance in the Daphne region. From taking on simple situations like oil changes to helping you take care of accident repairs and other substantial issues, it is plain to see the Sandy Sansing Ford Lincoln team of committed Ford or Lincoln-certified technicians are available to manage anything that comes their way.
Even if you own an automobile that does not belong to the Ford or Lincoln family of automobiles, you can trust in Sandy Sansing Ford Lincoln to bring you exceptional service and support for these cars, as well. The men and women who proudly work on Sandy Sansing Ford Lincoln's adept team of service and repair pros are no strangers to makes and models not from Ford or Lincoln, so you can take comfort in the reality your non-Ford or Lincoln car is in good hands once you roll onto the Sandy Sansing Ford Lincoln property.
Before you make your ultimate decision regarding your service needs, go ahead and join us and learn a bit more about why Sandy Sansing Ford Lincoln has earned the right to be considered the most trustworthy and reliable supplier of automotive service in the Daphne region. After running through this approach, odds are you will be ready to get the ball moving on your service needs and plan out a visit to Sandy Sansing Ford Lincoln in the near future.
Why Should I Schedule My Car Service at Sandy Sansing Ford Lincoln?
Deciding where to take your automobile when it comes time to handle a service or repair issue is a decision that requires a significant dose of consideration - the team here at Sandy Sansing Ford Lincoln understands this reality fully. Even so, it is also true that our staff of automotive service and repair experts rise above the rest of the competition when it comes to handling your specific service concerns. In particular, by coming to us when things are not going well with your automobile, you can expect to have access to the following top-tier practices and assurances:
Putting an Emphasis on Your Safety and First-Class Repair Practices - The Sandy Sansing Ford Lincoln organization takes your well-being seriously, so you can drive with confidence knowing Sandy Sansing Ford Lincoln has your car back in working order in a timely and efficient manner.
Taking Care of Your Financial Considerations - Looking for the top auto service in Daphne, all at a fair and affordable price? Then stop by Sandy Sansing Ford Lincoln and you will soon see just how serious we are when it comes to keeping you on point with your budget.
Access to Premium Replacement Components - Are you looking to bring your Ford or Lincoln car to the Sandy Sansing Ford Lincoln service department? Then you will be pleased to learn Sandy Sansing Ford Lincoln has access to all of the premium original equipment manufacturer (OEM) parts needed to change out the broken or faulty item in question.
In other words, Sandy Sansing Ford Lincoln is the preferred option in the Daphne AL location for shoppers who want to make the most of the optimal blend of quality service, superior support, and reasonably priced repair rates.
Putting Your Repair Requirements in the Hands of Only the Best Ford or Lincoln-Authorized Mechanics
Digging even deeper, Sandy Sansing Ford Lincoln is not just the most cost-effective and reliable service provider in town, but also the place to stop by if you are eager to leverage the enormous stores of knowledge and insight of an adept staff of Ford or Lincoln technicians. While you might be questioning the notion of always needing to turn to the finest workforce of Ford or Lincoln service specialists here in Daphne, the big idea to keep in mind is the years of hard work and instruction undertaken by these men and women completely supersedes what you find at any of our local competitors.
Naturally, these shade-tree organizations may speak a big game or utilize cunning sales tactics at times. However, there is no escaping the reality that only certified Ford or Lincoln professionals have spent the countless hours necessary to earn this honored status from Ford or Lincoln. Additionally, gaining this position also comes with the power to engage directly with Ford or Lincoln and stay up-to-date regarding the latest news and insight into Ford or Lincoln automobiles and the best repair and support procedures.
When it comes to keeping your vehicle in great shape, are you absolutely willing to embrace anything but the quality support and amplified criteria that come with the work completed by an accredited Ford or Lincoln technician?
Making Sure You Never Fall Behind on Routine Maintenance
While getting a little lax with your maintenance at times might not seem like a serious issue, adhering to this line of thought is a quick way to remove a hefty amount of time (and hundreds of thousands of miles) off of the potential life of your car. To prove this to you, here is a look at the consequences that derive from disregarding regular services that most certainly require a meaningful amount of your attention:
Oil Changes - Neglecting to consistently change your oil is a fast way to wear away the vital parts of your motor via a shortage of lubrication.
Tire Rotations - Bald spots and preventable wear and tear, in addition to an increased risk of roadside issues, are all warning signs of tires that have not been rotated on a frequent basis.
Timing Belt Changes - A neglected timing belt is akin to a ticking time bomb in that it can lead to severe damage to your engine if it reaches the stage of serious wear and fails during your daily drive.
Brake Inspections - While brakes might seem boring, taking a minute to inspect these important components on a regular basis makes certain they are ready to perform correctly when you need to slow things down.
These are just a small amount of examples that point to why disregarding scheduled service is never a good choice. The sustainability of your vehicle (and your finances) is at stake, so feel free to connect with Sandy Sansing Ford Lincoln when you are ready to take on these uncomplicated services.
Getting Back on Track with the Right Maintenance Plan for You
Now that you recognize how necessary handling your recommended maintenance with an honest institution like Sandy Sansing Ford Lincoln is to the durability of your vehicle, it is the perfect time to help you develop a suitable service schedule. To get off on the right foot with this undertaking, go ahead and give the Sandy Sansing Ford Lincoln staff of expert automotive technicians a phone call at 251-626-7777 today.
By choosing to bring your valued business to the service staff located here at Sandy Sansing Ford Lincoln, you can guarantee you always get the longest useful life out of your favorite car, truck, or sport utility vehicle (SUV). When you realize how crucial it is to have a vehicle in proper working order to keep your day-to-day routine on track, and your time devoted to journeying outside of Daphne, it makes all the sense in the world to connect with the Sandy Sansing Ford Lincoln team right away and get back in order with your scheduled maintenance plan in the near future.
Browse Special Offers
We're sorry, we do not currently have any specials published. Please check back soon or contact us for more information.